NTFS Alternate Data Streams Software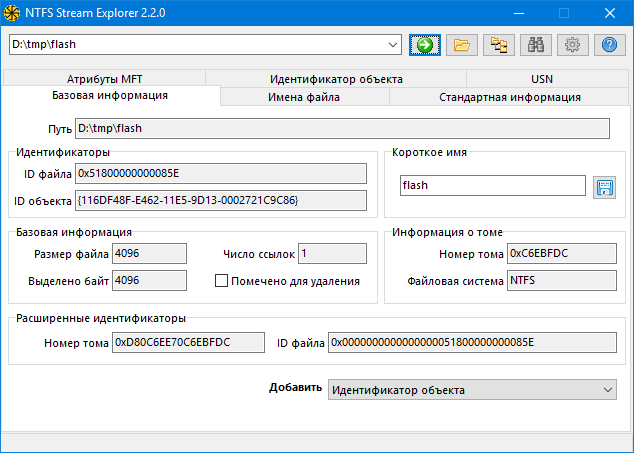 NTFS Stream Explorer is a software for working with NTFS Alternate Data Streams and other types of NTFS streams. It is a freeware program. Current version is 2.2.0.
NTFS Stream Explorer can create, delete, copy and rename NTFS data streams. Extended attributes (EA) are supported too. The program can run NTFS stream as a process. NTFS Stream Explorer works with streams attached to files, folders and system drives. There is a built-in scanner of alternate data streams. You can find all hidden streams inside your computer with it.
Export of binary data supported for all types of NTFS system streams, such as $OBJECT_ID, $REPARSE_DATA and sparse blocks. NTFS Stream Explorer can create object identifiers and reparse point buffers at any file.
Download
Download NTFS Stream Explorer 2.2.0 (English and Russian languages, 1.1 Mb)
Download NTFS Stream Explorer 2.1.1 (English and Russian languages, 660 Kb)
Download NTFS Stream Explorer 2.1 (English and Russian languages, 660 Kb)
Download NTFS Stream Explorer 2.00 (English and Russian languages, 641 Kb)
Download NTFS Stream Explorer 1.07 beta (English and Russian languages, 660 Kb)
Download NTFS Stream Explorer 1.06 beta (English and Russian languages, 635 Kb)
Download NTFS Stream Explorer 1.05 beta (English and Russian languages, 631 Kb)
Download NTFS Stream Explorer 1.04 beta (Russian language only, 551 Kb)
Download NTFS Stream Explorer 1.03 beta (Russian language only, 543 Kb)
Download NTFS Stream Explorer 1.02 (English)
Copyright © 2016- Программирование Native API и расширенные возможности NTFS
По вопросам сотрудничества и другим вопросам по работе сайта пишите на cleogroup[собака]yandex.ru